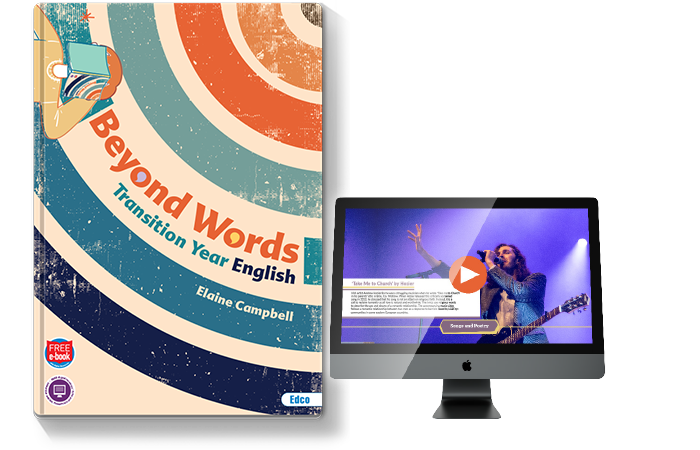 Beyond Words is a new, modern and student-centric Transition Year Book written to place TY English students at the centre of the learning journey and to capture their learning through student voice and learner choice. It is modern and topical and has been written with a Generation Z audience in mind.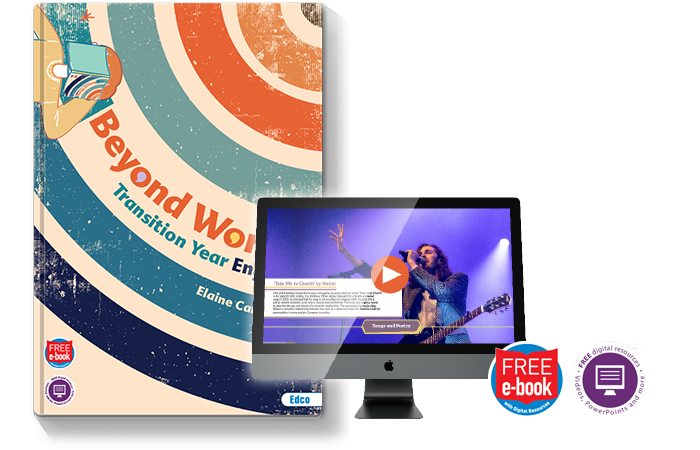 The Beyond Words package includes:
A Student Activity Book
Free e-book
Weblinks throughout
A multimodal book featuring a variety of texts from different modes such as plays, songs, films, short stories, blogs, newspapers, graphic novel extracts, poetry and books as well as digital audio such as podcasts and videos
Contains nine colourful, engaging, student-friendly and highly visual units based on: drama, diverse fiction, songs and poetry, comparative studies, film, media, reading comprehension, language skills and creative writing
The non-linear approach enables learner voice and flexibility of choice
Promotes a range of different learning skills including exploratory learning, active learning, experimental learning modes including reflective learning and concrete learning
A wide range of questions and activities are included:
Mini essay writing activities
Self-directed research
Exam style questions
Think-pair-share and group activities
Team and film projects
Senior cycle assessment style question
Source questions
Discussion activities in every unit
Creates a creative, exploratory space for students to expand their literacy skillset
whilst also guiding students towards Leaving Certificate Exam Paper 1 writing skills
and Paper 2 taster topics
The Creative Writing unit encourages students to create a writing journal,
as well as personal reflection pieces
Success criteria and Assessment for Learning techniques such as peer assessment
and self-assessment promote reflective learning and 'responsibility for own learning'
Independent and collaborative learning opportunities to foster personal growth
Diversity: One unit devoted to diverse texts and inclusive material throughout the book
Cultural relevance, promoting social awareness and social justice is also incorporated
Senior Cycle Key Skills are used throughout the text and content including:

Higher-order thinking skills
Critical thinking skills and analysis and synthesis of information skills
Problem solving and information processing
Creativity and innovation; and skills in the areas of research, writing, communication, presentation and digital technologies
Beyond Words is written by Elaine Campbell (PGDEML, PGDE, M.A. Hons, B.A. Hons.) an English and History teacher and Assistant Principal II at Maynooth Community College, with over 13 years' teaching experience. She completed a Post Graduate Diploma in Educational Management and Leadership at Maynooth University and is also a Junior Cycle SEC English Written Examiner and SEC Examinations Superintendent.