New Junior Cycle Higher Level Irish exam (T2)
Bí Réidh is a new and comprehensive examination guide and practice book for the New Junior Cycle Higher Level Irish exam (T2).
Written by a team of three Irish language experts, Bí Réidh aims to show Higher Level students how to get top marks in their Junior Cycle Higher Level Irish exam.
● All aspects of the new course are fully covered including literature, aural and composing sections
● There is a chapter devoted to each section of the final examination paper
● Each section dealing with literature
(Gearrscealta, Drámaíocht, Filíocht, Amhránaíocht agus Amhráin, Úrscéalta) starts with the key phrases and terminology needed to write about the piece of literature
● A Cúinne na Gramadaí in every chapter highlights the main grammar points
● There are comprehensive notes, with examples, of how to convey opinions about the literature as well as several practice exercises
● Comprehensive sample answers and answer guidelines provided to the SEC sample paper questions
● A wide variety of question types are included, testing the students' creative abilities and preparing them for any type of question that may arise in the exam
● Several topical and age-appropriate reading comprehensions, with high-quality sample answers and explanations to guide the students are included
● Contains aural practice exercises, with sample answers, along with an extensive list of useful and common vocabulary
● Students are given the opportunity to familiarise themselves with different dialects in order to help them prepare for the final examination
● Students are also shown how to answer the grammar question, where they are asked to correct a short paragraph helping the students to practice the main grammar points that will be examined
● An extensive chapter dealing with creative/personal writing contains:
● the main grammar and vocabulary points needed to write well
● a comprehensive list of seanfhocail
● samples of newspaper articles, debates,
essays, stories
● Clear, student-friendly layout with space and guidance for students to write their own content
● Useful Notaí are flagged for students to set them up for exam success
● A glossary is also included to help aid independent work
● New Student Audio App – this free App allows you to listen to audio tracks for your Bí Réidh textbook. Just download the App to your mobile or desktop device or you can also listen online
● Free Teacher's CDs upon request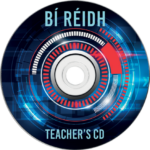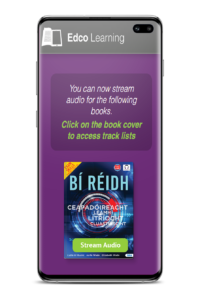 Teachers can access the e-book at www.edcolearning.ie, plus all audio tracks online at www.edco.ie/audio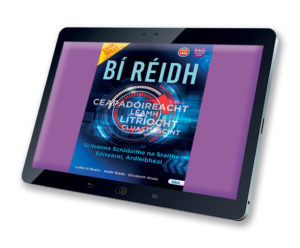 What Teachers Think of Bí Réidh
'I am very impressed by the material. The idea of an exam skills workbook is a great idea. Students & teachers are finding the new curriculum quite challenging so any additional resource is most welcome.'
'All the sections follow the SEC sample paper layout - which is most important. The sample answers are well laid out & totally in line with the sample paper.'
'I love the idea of the sample answers being given to the students as it shows them the necessary standard that is required for the higher level answers.'
'Students who are looking to achieve higher grades would greatly benefit from this type of book, as it purely focused on the exam.'
Elizabeth Wade

has decades of experience teaching Irish at all levels in secondary schools. She is co-author of several Irish textbooks, including Fiúntas, Fuinneamh, Cinnte, Iontas and Graiméar Is Féidir Leat.

Aoife Wade

has several years' experience as a teacher and as an exam corrector.

Lydia Uí Ruairc

has worked as a secondary school teacher at all levels. She co-authored a weekly educational supplement Réidh le Plé! for both Junior Cycle and Leaving Cert students and has also written educational material for many Irish language organisations.