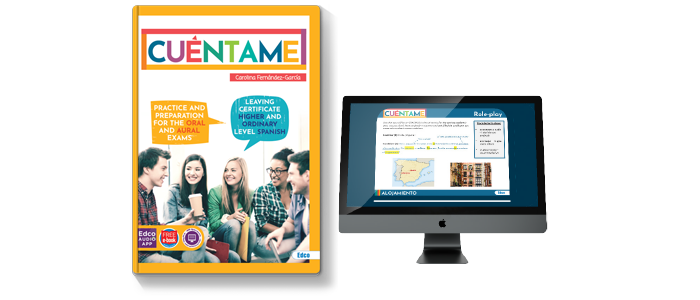 Cuéntame is a new, exam-focused textbook written to help students prepare for the Leaving Certificate Spanish Oral and Aural exams in a structured manner to achieve top marks.
The book begins with an explanation of the marking scheme for the oral and aural exams and advice and tips on how to maximise your marks at all levels
Cuéntame includes a comprehensive collection of the most commonly asked questions in the oral exam and a wide selection of responses
Cuéntame motivates and challenges students with differentiated exercises for all levels promoting active involvement and building confidence
Each unit in this book has three main sections:

Part 1: Introduction to vocabulary
Part 2: Oral section
Part 3: Aural section

Learning intentions are outlined at the start of each unit
Cuéntame follows a thematic and communicative approach to covering the syllabus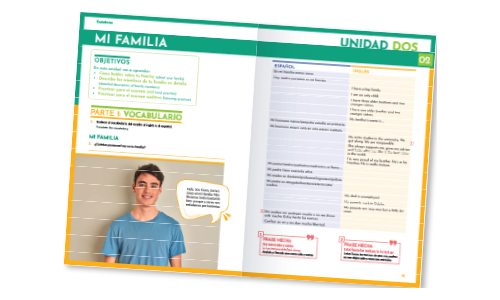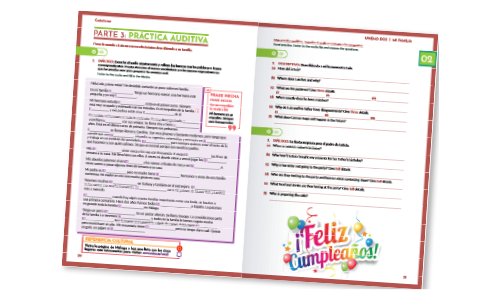 Grammar is presented in an integrated manner
A wide variety of exercises promote independent, pair and group work
Exercises are suitable for both class and homework
The use of idiomatic phrases throughout will help students achieve higher grades in their oral exam
Cultural references about the Spanish-speaking world promote intercultural awareness
Cuéntame contains 15 units of contemporary and engaging content
Cuéntame is suitable for a mixed-ability class and features differentiation for both Higher and Ordinary levels
Teachers can access the following resources on
Solutions to textbook activities
Audio transcript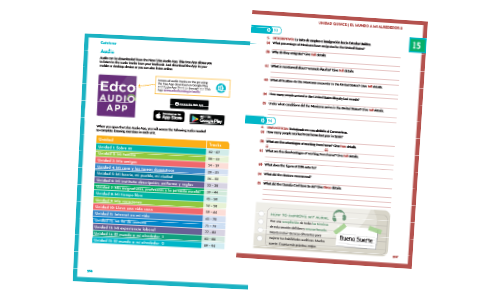 FREE Edco Audio app with over 90 listening exercises recorded by native speakers on www.edcoaudioapp.ie
Teachers and students can access the digital resources via the Cuéntame interactive e-book at www.edcolearning.ie. These resources include:
Useful websites for further research on Spanish culture
Editable PowerPoint presentations for the five SEC role-play situations
Additional audio, vocabulary, translation activities and listening extension activity on the topic of the weather
Pronunciation guide with key pronunciation rules
Supplementary vocabulary, including extra conversation fillers and colloquial expressions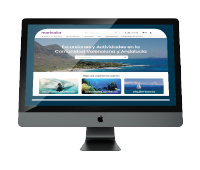 Carolina Fernández García is an experienced and qualified secondary school teacher. With over fifteen years' teaching experience, Carolina has corrected LC Spanish Exam Papers for the last 9 years. She is also an Oral Examiner and has wide experience writing mock exams and materials for Leaving Certificate Spanish.