An Updated Junior Cycle Spanish Package
Click below to view a sample of our digital resources
The second edition of our ¿Qué Pasa? 1 for Junior Cycle Spanish has been updated to make learning more accessible for students and to make planning for teachers easier.
The ¿Qué Pasa? 1 package includes:
● Student Textbook
● Learning Diary (Diario de aprendizaje)
● Free Mini-Whiteboard
● Free Student e-Book
● Free Audio App
● Student Interactive 'Quizlet' Site
● Teacher's Resource Book and CDs
● Free Digital Resources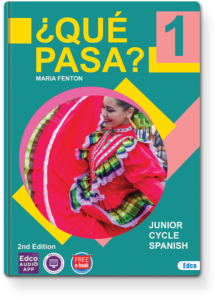 ● A revised edition of the highly successful ¿Qué Pasa? 1, a First Year course for Junior Cycle Spanish
● Clear and vibrant layout filled with colourful illustrations, posters and photos
● Suitable for mixed-ability classes
● The sequence of learning has been updated to make learning more natural
● Topics and the structure have been streamlined
● The audio material is slower and the numbering of sections has been simplified
● The structure of the book allows for easy planning and allows time for assessment and revision
● The Learning Outcomes are displayed at the beginning of each section, which makes planning convenient for teachers and helps the student focus on what to expect in each unit of learning
● Actively engages students in communicative activities and tasks, which integrate all five skills: listening, reading, writing, spoken interaction, spoken production
● Filled with exciting student-friendly content
● Each unit provides opportunities to engage with authentic-style Spanish texts
● The !Ojo! boxes contain helpful tips for learning Spanish
● Group and pair work activities allow for peer-to-peer learning
● Grammar is presented in an integrated manner
● Culture sections throughout each unit teach students about Spanish habits and customs, developing sociocultural knowledge and promoting intercultural awareness
● AFL techniques are used throughout the book.
● New Audio App – this free App allows students to listen to 100 audio tracks for their ¿Qué Pasa? 1 textbook. The app can
be downloaded to a mobile or desktop device. Tracks are also available to listen to online.
Learning Diary (Diario de aprendizaje)
FREE Learning Diary, which students can use as their language portfolio – a place to collect pieces of work.
● The diary provides space to note key words, make grammar notes, reflect on learning and set learning goals
● Success criteria (Criterios de éxito) are provided for tasks and reflection activities encourage students to assess their own learning journey
● In the Mi portafolio section students will collect pieces of written work, which they may choose to submit as part of their portfolio for Classroom-Based Assessment 2
● Comentario boxes allow teachers to provide feedback on students' work, what they did well or what they need to revise
● The Vocabulario section is used to note key words and phrases from each unit
● The Reglas gramaticales section provides students with a space to make their own grammar notes to reinforce learning
● The Autoevaluación section provides rapid revision tests, self-assessment checklists and reflection exercises for each chapter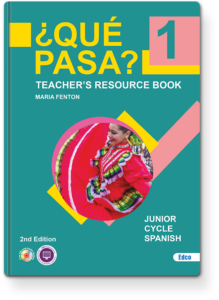 Qué Pasa? 1 Teacher's Resource Book helps teachers plan their lessons easily. It contains:
● Planning advice and Scheme of Work
● Sample Units of Learning
● End-of-unit tests for Assessment for Learning
● Extension activities with worksheets
● Printed solutions to textbook activities, learning diary tests, extension exercises and end of unit tests
● Full Audio transcripts
● Free Teacher's CDs upon request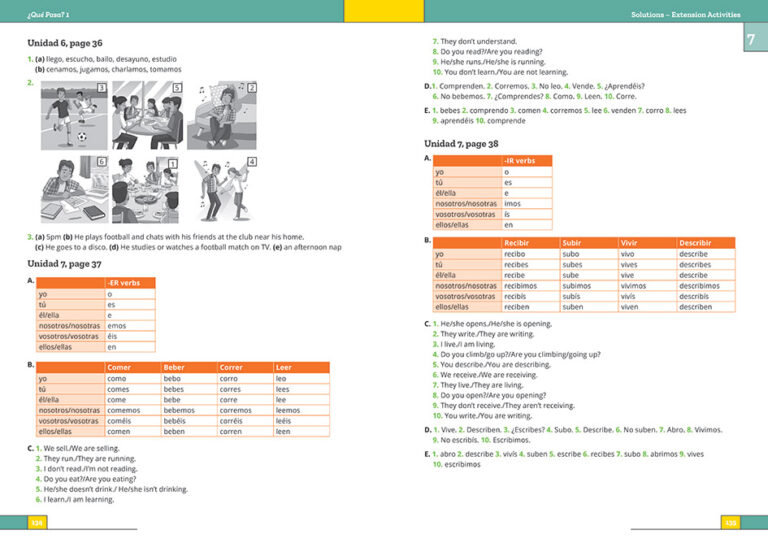 Teachers can access the ¿Qué Pasa? 1 interactive e-book at www.edcolearning.ie, plus a bank of free digital resources, including:
› Student 'Quizlet' website filled with fun and interactive grammar and language activities and quizzes to reinforce learning
› A series of unique interview videos for each unit to support oral communication
› Editable lesson plans to aid lesson planning
› Editable PowerPoint presentations covering vocabulary, grammar and cultural information
› Full set of solutions for all textbook activities
› Worksheets for videos based on the oral animations and interview videos
› Online audio tracks available at www.edcolearning.ie/audio
› Transcripts of all audio recordings
› Printable posters for the classroom