A fresh and engaging new package for Junior Cycle English
Click below to View a Sample of our Digital Resources
Written by highly experienced and well-known English teacher Clare Madden, Touchstones presents a fresh and engaging new approach to Junior Cycle English.
Touchstones uses cutting-edge, classroom-tested methods to build up students' knowledge of texts and skills in a carefully integrated way. Students are led on an innovative and exciting journey through the specification.
The Touchstones package includes:
A Student Textbook
A Student Activity Book
A Free Student e-book
Free Audio App
A Teacher's Resource Book
Free Digital Resources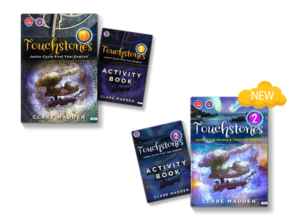 All 22 First Year Learning Outcomes are covered with emphasis on the three strands of the Junior Cycle English specification: oral language, reading and writing
Touchstones 2 includes Key learning in focus for each unit, ensuring complete coverage of all Learning Outcomes
The clear, simple design helps to focus students and prevent cognitive overload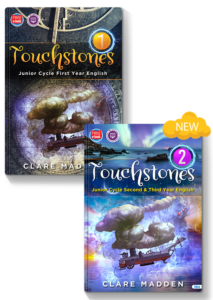 Fresh, exciting and engaging text extracts, both traditional and contemporary, are used throughout from novels, plays, films, digital texts and multi-modal texts
Units are carefully structured around the recommended genre-based approach and cover the following genres: fiction, poetry, film, drama and Shakespeare

Touchstones 1 also includes a unit covering non-fiction
These sequenced units of learning begin by building and consolidating a strong knowledge base for each genre, build oral communication, reading and writing skills, and end with a project
They are designed to be either covered in sequence or to be dipped into and out, for ease of use
A stand-alone Shakespeare unit, a first for a programme, introduces students to the world of Shakespeare and builds knowledge and understanding of the dramatic categories and structure, language, grammar and punctuation of a Shakespearean text
Each unit begins with a knowledge organiser or a writer's toolkit of genre-based critical vocabulary and ends with a Test Your Knowledge quiz
In Touchstones 2, each unit ends with Focus on the Final Assessment and Exam Questions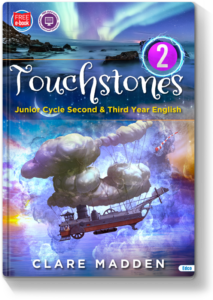 A first for a programme, Touchstones 2 also includes:

Prescribed Text units that cover popular prescribed film Sing Street and novels The Outsiders and Trash, providing in-depth analysis of key moments, techniques, characters and themes for each text
Learning in Focus units – Visual Texts, The Art of Comparison, The Art of Persuasion, and Words, Sentences and Paragraphs – that build students' skills across genres
Touchstones 2 supports student assessment in the following ways:

Each unit ends with a Focus on the Final Assessment section providing Ordinary and Higher Level exam questions, sample answers and tips
A dedicated Assessment section providing a student-friendly guide to the Classroom-Based Assessments (CBAs), Assessment Task and the final exam, with tips and guidelines

Highly scaffolded tasks effectively support mixed-level and mixed-ability teaching in the English classroom
Retrieval practice opportunities that build on prior learning appear throughout
Oral language supports include a strong focus on using structured and meaningful group
discussion
Reading Supports Include:
Effective reading strategies integrated into tasks to develop reading skills
A dedicated reading unit, that includes over 40 books appealing to this age group as well as engaging group tasks to encourage and promote reading for pleasure
Writing Supports Include:
Scaffolded writing tasks (models and writer's
toolkits) that promote the craft of writing
A skills development approach for writing to analyse, beginning in first year with annotation, quotation and inference skills
A focus on development of high-level vocabulary throughout
A dedicated Spelling, Punctuation and Grammar (SPaG) section at the end of the book
Engaging end-of-unit projects
Can be used to, prepare for the
Classroom-Based Assessments (CBAs),
Oral language and writing projects provide students with opportunities to develop a personal writing voice and to experiment with and enjoy elements of public speaking and performance
Clear success criteria are provided
Step-by-step instructions and tasks with complementary teacher mark sheet and wholeclass feedback sheet for each project, provided in the Teacher's Resource Book
Touchstones Student Activity Book provides additional material,
questions and activities to complement textbook content, including:
Meaningful scaffolding to approach written tasks
Carefully designed graphic organisers to support thinking and writing
A range of retrieval practice templates to support students using effective learning techniques
Exam-style questions to prepare students for assessment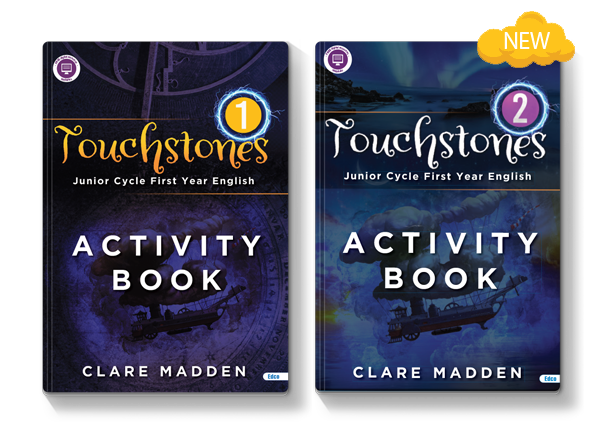 Touchstones Teacher's Resource Book provides all the practical support
you need to teach the course, including:
Guidance on the Junior Cycle English specification
Comprehensive planning supports, including a dedicated guide, detailed, step-by-step unit plans, three different types of planning, and subject department plans
Assessment supports, including retrieval practice resources and activity ideas, teacher mark sheets and whole-class feedback sheets, and mini-assessments
First Year novel supports, including knowledge organisers for a choice of four novels, character map and plot road organisers, personal response discussion and short writing tasks, and blank templates
Second and Third Year reading for pleasure supports
Additional blank templates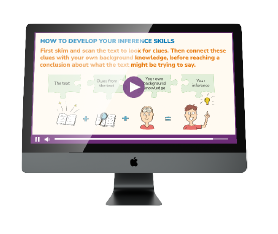 Teachers can access the Touchstones 1 & 2 interactive e-books at www.edcolearning.ie, plus a bank of free digital resources, including:
Editable PowerPoint presentations and interactive quizzes for each unit
Editable units of learning and templates to support planning
Worksheets and tests, plus select solutions
Useful websites for further research
A wide range of audio and video content, including poetry readings, short films, podcasts, summaries of prescribed texts, skills-based demos and exam-focused tutorials
Clare Madden is an English and History teacher based in Glanmire Community College in Cork. She is a former JCT English Associate and has taught Junior Cycle English since its introduction. Clare also delivers English teaching webinars on behalf of Education Centres nationwide and tweets regularly on all things English teaching @MaddenClare.